News
Successful Posthumus Conference 2023 in Antwerp
On 24 and 25 May 2023, the Posthumus Conference 2023 was held at the University of Antwerp. This year's central theme was 'Food Inequalities', a thema that was also the main topic of two highly interesting keynote lectures, delivered by Dr Susan Flavin (Trinity College Dublin, The University of Dublin and Principal Investigator of the ERC Funded Project FoodCult and emeritus Professor Peter Scholliers (Vrije Universiteit Brussel).
The conference comprised presentations of PhDs currently involved in the PhD Training Programme of the N.W. Posthumus Institute as well as meetings and presentations of the Research networks of the N.W. Posthumus Institute.
The N.W. Posthumus Institute wants to express its warmest thanks to all participants, but particularly to our keynotes and the hosts team at Antwerp University, Professor Tim Soens and Dr Stef Espeel for making this conference such a wonderful event.
The N.W. Posthumus Institute staff hopes to see you all at the Posthumus Conference 2024, which will be held on 23 and 24 May 2024 and will be hosted by the Fryske Akademy in Leeuwarden.
Keynote lecture by Susan Flavin


Keynote lecture by Peter Scholliers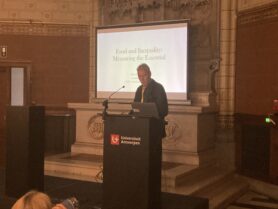 Welcome by Tim Soens